2022 FIFA World Cup – Fifaworldcupnews.com
The 2022 FIFA World Cup is the 32 World Cup in football (soccer) which was organized by the Federation Internationale de Football Association (FIFA), the quadrennial international men's association football championship contested by the national teams of the member association of FIFA.
It is scheduled to take place in Qatar from 21 November to  18 December 2022. This world cup is the first to be played in the Arab World and the first in a Muslim-majority country. And this is the second world cup held in Asia after the 2002 tournament in South Korea and Japan.
In the 2022 FIFA World Cup, the tournament will be the last to involve 32 teams, and for the World Cup for 2026 it will increase it to 46 teams which will hold in the United States, Mexico, and Canada.
As Qatar's intense summer heat, this World Cup will be held from late November to mid-December. This is the first World Cup not to be held in May, June, or July.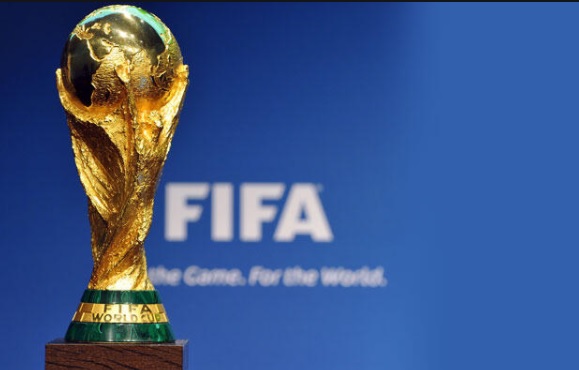 Qualifiers | Participating Teams
 Africa: 54 Teams
Algeria, Angola, Benin, Botswana, Burkina Faso, Burundi, Cabo Verde, Cameroon, Central African Republic, Chad, Comoros, Congo, Congo DR, Côte d'Ivoire, Djibouti, Egypt, Equatorial Guinea, Eritrea, Eswatini, Ethiopia, Gabon, Gambia, Ghana, Guinea, Guinea-Bissau, Kenya, Lesotho, Liberia, Libya, Madagascar, Malawi, Mali, Mauritania, Mauritius, Morocco, Mozambique, Namibia, Niger, Nigeria, Rwanda, São Tomé and Príncipe, Senegal, Seychelles, Sierra Leone, Somalia, South Africa, South Sudan, Sudan, Tanzania, Togo, Tunisia, Uganda, Zambia, and Zimbabwe.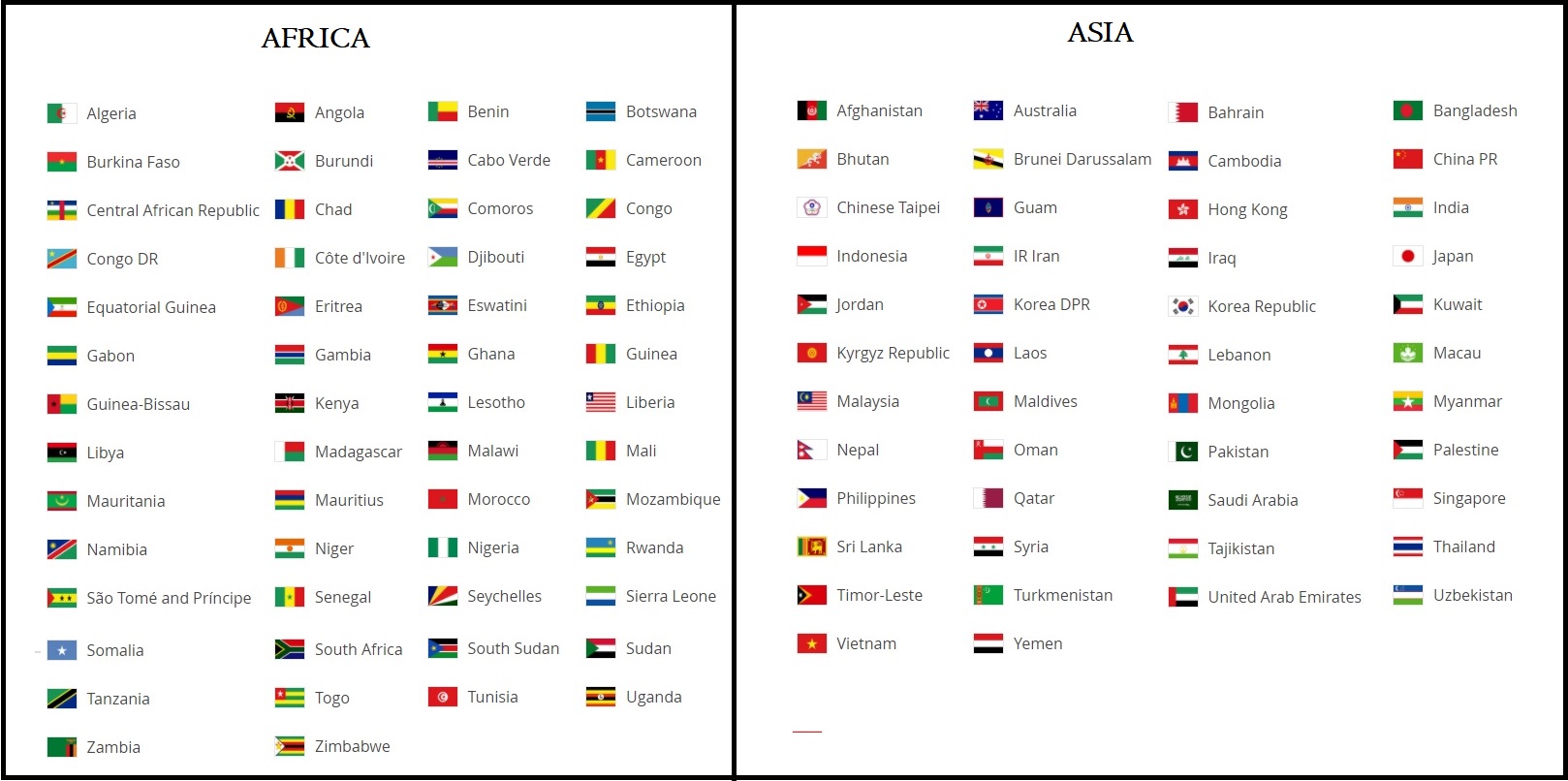 Asia: 46 Teams

Afghanistan, Australia, Bahrain, Bangladesh, Bhutan, Brunei Darussalam, Cambodia, China PR, Chinese Taipei, Guam, Hong Kong, India, Indonesia, IR Iran, Iraq, Japan, Jordan, Korea DPR, Korea Republic, Kuwait, Kyrgyz Republic, Laos, Lebanon, Macau, Malaysia, Maldives, Mongolia, Myanmar, Nepal, Oman, Pakistan, Palestine, Philippines, Qatar, Saudi Arabia, Singapore, Sri Lanka, Syria, Tajikistan, Thailand, Timor-Leste, Turkmenistan, United Arab Emirates, Uzbekistan, Vietnam, and Yemen
Europe: 55 Teams

Albania, Andorra, Armenia, Austria, Azerbaijan, Belarus, Belgium, Bosnia & Herzegovina, Bulgaria, Croatia, Cyprus, Czech Republic,  Denmark, England, Estonia, Faroe Islands, Finland, France, Georgia, Germany, Gibraltar, Greece, Hungary, Iceland, Israel, Italy, Kazakhstan, Kosovo, Latvia, Liechtenstein, Lithuania, Luxembourg, Malta, Moldova, Montenegro, Netherlands, North Macedonia, Northern Ireland, Norway, Poland, Portugal, Republic of Ireland, Romania, Russia, San Marino Scotland, Serbia, Slovakia, Slovenia, Spain, Sweden, Switzerland, Turkey, Ukraine, Wales

North, Central America and, Caribbean: 35 Teams

Anguilla, Antigua and Barbuda, Aruba, Bahamas, Barbados, Belize
Bermuda, British Virgin Islands, Canada, Cayman Islands, Costa Rica, Cuba, Curaçao, Dominica, Dominican Republic, El Salvador, Grenada, Guatemala, Guyana, Haiti, Honduras, Jamaica
Mexico, Montserrat, Nicaragua, Panama, Puerto Rico, St. Kitts, and Nevis, St. Lucia, St. Vincent / Grenadines, Suriname, Trinidad & Tobago, Turks and Caicos Islands, US Virgin Islands, and the USA

South America: 10 Teams

Argentina, Bolivia, Brazil, Chile, Colombia, Ecuador, Paraguay, Peru, Uruguay, Venezuela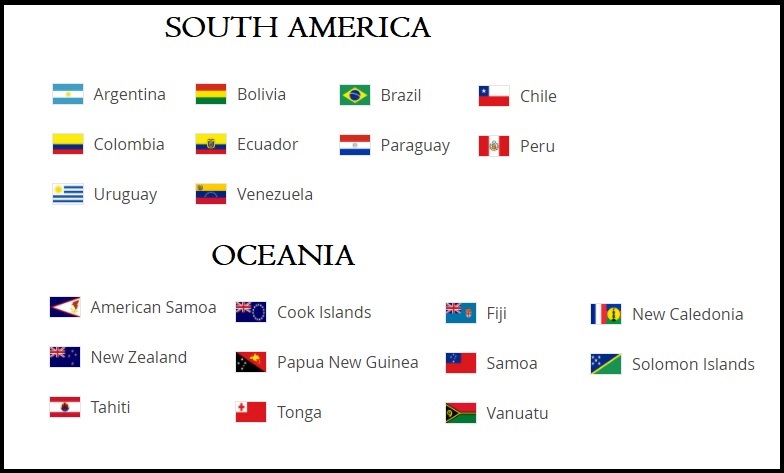 Oceania: 11 Teams –

American Samoa, Cook Islands, Fiji, New Caledonia, New Zealand, Papua New Guinea, Samoa, Solomon Islands, Tahiti, Tonga, Vanuatu
Schedule
Round
Matchday
Date
First-round
First leg
6 June 2019
First leg
6 June 2019
Second-round
Matchday 1
5 September 2019
Matchday 2
10 September 2019
Matchday 3
10 October 2019
Matchday 4
15 October 2019
Matchday 5
14 November 2019
Matchday 6
19 November 2019
Matchday 7
26 March 2020
Matchday 8
31 March 2020
Matchday 9
4 June 2020
Matchday 10
9 June 2020
Third round
Matchday 1
3 September 2020
Matchday 2
8 September 2020
Matchday 3
13 October 2020
Matchday 4
12 November 2020
Matchday 5
17 November 2020
Matchday 6
25 March 2021
Matchday 7
30 March 2021
Matchday 8
8 June 2021
Matchday 9
7 September 2021
Matchday 10
12 October 2021
First-round
First leg
11 November 2021
First leg
16 November 2021
Teams: 32 (from 5 or 6 confederations)
Venue(s): 8 (in 5 host cities)
Dates: 21 November – 18 December