Argentina National Football Team
Argentina national football team is the men's football team for Argentina National that has won the FIFA World Cup 2 times, FIFA Confederations Cup 1 times and Copa América winning it 14 times which is the second highest times ever won by any country. The team is governed by the Argentina Football Confederation. Daniel Passarella is World Cup winning captains both of the time and Lionel Messi is one of the most successful player (with 65 goals in 128 Caps) in history of Argentina with the international competitions, and Friendly matches.
It comes under CONMEBOL Confederation of South America continent. Argentina has the best overall performance in Copa America history with 14 final wins, 14 Runners-up, 4 third-time and 2-time fourth place in 46 tournaments.
The Argentine Olympic team won the Olympics football tournaments in Athens 2004 and Beijing 2008.  There is Estadio Monumental Antonio Vespucio Liberti is official home ground in various venues.
Argentine National Football Team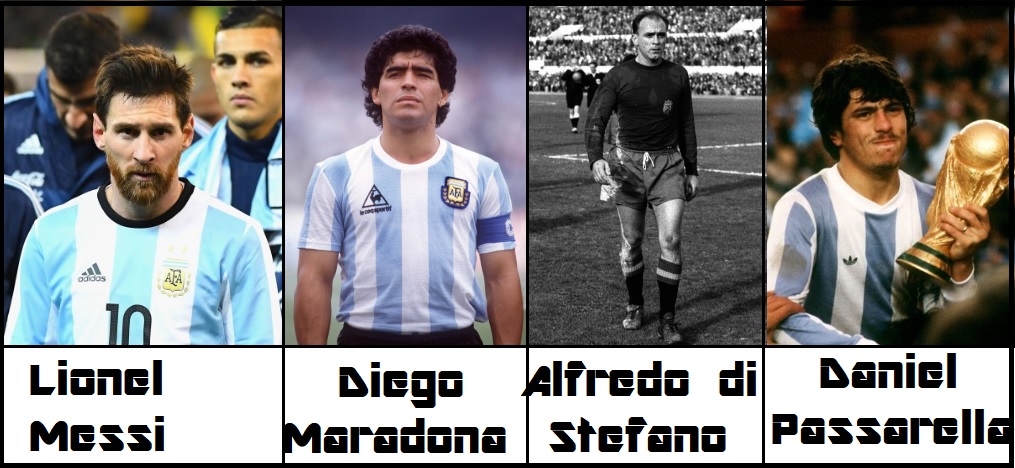 Lionel Scaloni is the current coach and Lionel Messi captain of Argentine football team. Javier Mascherano is the most caps player for the national team with 147 caps and 3 goals, Javier Zanetti(143 Caps with 4 Goals) and Lionel Messi (128 caps with 65 goals) in the second and third position in the sequence.
Lionel Messi, Diego Maradona, Alfredo di Stefano, Daniel Passarella, Gabriel Batistuta, Jose Manuel Moreno, and Sergio Agüero are some of the famous soccer players from Nation. Messi, who played Barcelona in one of the best players in football history and the first choice footballer all time with Ronaldo. He won the trophy in 5 D'Or d'Or Award 5 time share with Ronaldo.
The team's first international World cup Appearances match in 1930 and the first international match was played against Uruguay on 16 May 1901.
Argentine National Football Team Squad Players
Here is the Argentina National team current squad which was selected for upcoming matches. Player details provided on all current squad and their position.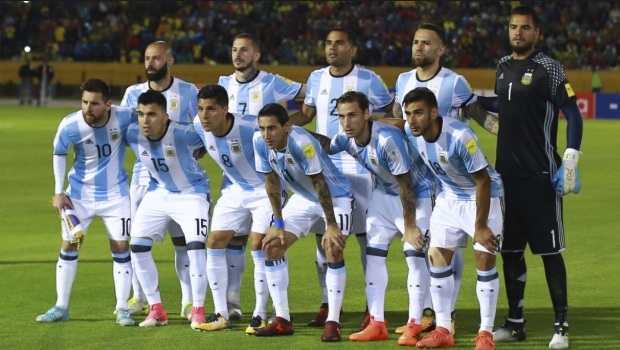 S.No
Name
Position
1
Franco Armani
Goalkeeper
2
Agustín Marchesín
Goalkeeper
3
Esteban Andrada
Goalkeeper
4
Juan Musso
Goalkeeper
5
Gabriel Mercado
Centre-Back
6
Marcos Acuña
Defender
7
Nicolás Tagliafico
Defender
8
Germán Pezzella
Defender
9
Walter Kannemann
Defender
10
Renzo Saravia
Defender
11
Juan Foyth
Defender
12
Lisandro Martínez
Defender
13
Gonzalo Montiel
Defender
14
Ángel Di María
Midfielder
15
Roberto Pereyra
Midfielder
S. No.
Name
Position
16
Giovani Lo Celso
Midfielder
17
Leandro Paredes
Midfielder
18
Manuel Lanzini
Midfielder
19
Rodrigo De Paul
Midfielder
20
Guido Rodríguez
Midfielder
21
Domingo Blanco
Midfielder
22
Iván Marcone
Midfielder
23
Federico Zaracho
Midfielder
24
Lionel Messi
Forward
25
Paulo Dybala
Forward
26
Ángel Correa
Forward
27
Lautaro Martínez
Forward
28
Darío Benedetto
Forward
29
Gonzalo Martínez
Forward
30
Matías Suárez
Forward
Argentina Football Team Information
Captain
Lionel Messi
FIFA code
ARG
FIFA Current Ranking
11  (19 March 2019)[
Top Score
Lionel Messi (65)
Appearance
World Cup– 41 (first in 1916)

Best Results- Won(1978 and 1986)

European Championship– 26 times out of 29
Best Results- Won(1992)

South American Championship- 26 times out of 29

Best Results-Won 12 Titles(1921, 1925, 1927, 1929, 1937, 1941, 1945, 1946,[note 5] 1947, 1955, 1957, 1959)

Copa América– 15 times out of 16
Best Results-Won(1991, 1993)

Olympics record– 8 time out of 19

Best Results- 2 Gold Medals and 2 Silver Medal