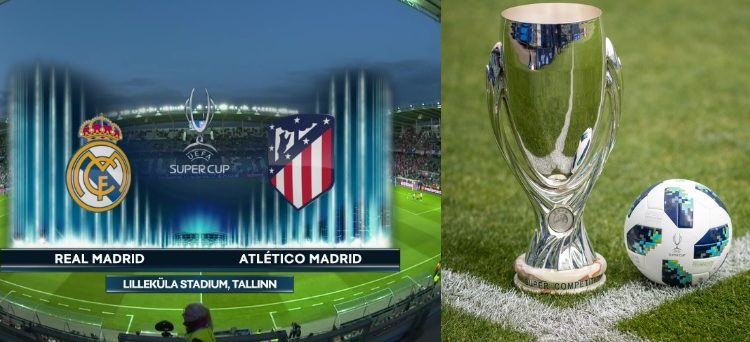 Super Cup Results
An annual football match between the two main European club competitions. The 2018 UEFA Super Cup was the 43rd edition of the UEFA Super Cup played between the Real Madrid and Atlético Madrid in A. Le Coq Arena, Tallinn, Estonia. Barcelona Football club in one of the most title winner club sare with Italian side Milan. Both of the Football team win 5 titles of the Super Cup.
UEFA super cup most 5 successful team is Barcelona, AC Milan, Real Madrid, Liverpool, and Ajax. The current Super Cup title holders team is Atlético Madrid, who defeat the Final with Real Madrid in 2018.
Founded: 1972
Number of teams: 2
Current champions: Atlético Madrid (3rd title)
Most successful club(s): Barcelona and Milin win 5 titles
Most wins by player: Paolo Maldini and Dani Alves (4 wins each)
2018 Super Cup Results
Real Madrid vs Atlético Madrid
Atlético Madrid win UEFA Super Cup 4-2 (2-2) after extra time
Diego Costa scores fastest ever Super Cup goal
This is the 3rd time win by Atlético Football Club
History of Previous participation of Real Madrid vs Atlético Madrid
Real Madrid winners of the 2017–18 UEFA Champions League and total attempt 7 times (1998, 2000, 2002, 2014, 2016, 2017 and 2018)
Atletico Madrid winners of the 2017–18 UEFA Europa League and total attempt 3 times (2010, 2012 and 2018)
Who is the Man of the Match of 2018 UEFA Super Cup?
Diego da Silva Costa won the 2018 UEFA Super Cup who plays as a striker for Spanish club Atlético Madrid.