Womens FIFA World Cup 2023 Qualification
The 2023 FIFA World Cup qualification process is a series of the tournament organized by the six FIFA confederation to decide to increase 24 teams to 32 teams that will play in the 2023 Women FIFA World Cup, with Australia and New Zealand qualifying automatically as the host country.
Women FIFA World Cup is the 9th edition which is going to begin from 20 July to 20 August 2023 in the previous 2019 Women FIFA World Cup United States was the defending champions
 Qualification process
In Women FIFA World Cup 2023 Australia and New Zealand qualify for the tournament because as host countries the qualification process for this tournament will start from 21 and end in 2022.  We have given how many slots are there in each confederation.
AFC: 5 slots + 1 host slots
CAF: 4 slots
CONCACAF: 4 slots
CONMEBOL: 3 slots
OFC: Only host country
UEFA: 11 slots
Play-off tournament: 3 slots
For the Play-off tournament there are ten teams for 3 slots from each confederation there is the following in AFC, CAF, CONCACAF, CONMEBOL there are 2 slots, and OFC and UEFA have only 1 slot.
Women FIFA World Cup 2023 Venue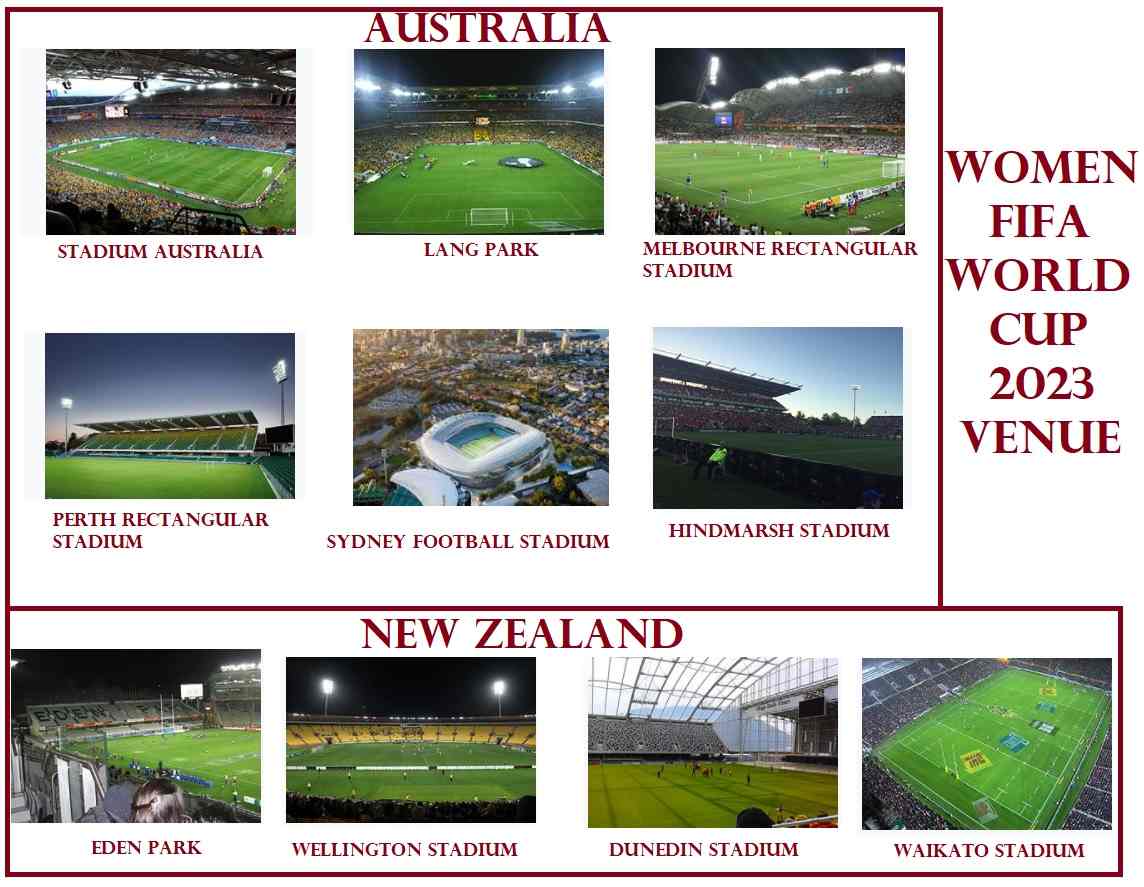 The tournament will be played in 13 different venues in Australia and New Zealand as per them but FIFA said the tournament will use a minimum of 10 stadiums five each country, after that on 31 March 2021, FIFA announced the final, Australia 5 cities and 6 stadiums will use for the tournament and New Zealand 4 stadium.
New Zealand
Auckland, Eden Park (Capacity:50,000)
Wellington Stadium (Capacity: 34,500)
Dunedin Stadium (Capacity: 30,748)
Hamilton, Waikato Stadium (Capacity: 25,800)
Australia
Sydney, Australia Stadium (Capacity: 83,500)
Sydney Football Stadium (Capacity: 45,000)
Brisbane, Lang Park (Capacity: 52,500)
Melbourne Rectangular Stadium (Capacity: 30,050)
Perth Rectangular Stadium (Capacity:22,500)
Adelaide, Hindmarsh Stadium (Capacity: 22,000)